CROWDFUNDING PROJECTS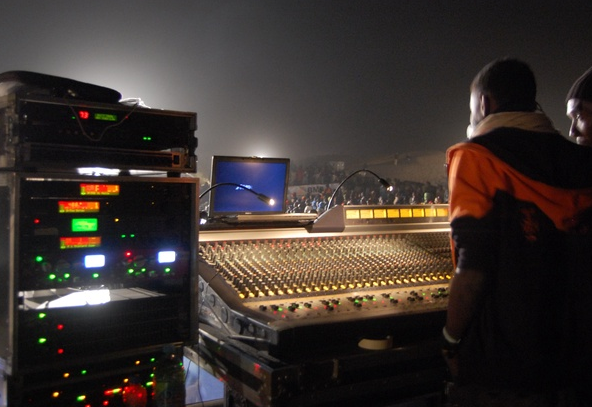 AfriSCENE
AfriSCENE is a Training Project for technicians of the spectacle and the audiovisual in Mali and Africa. It is based on a partnership with recognized training structures in Belgium and France but also on a large network of West African partners.
We need the support of all the friends of the Festival in the Desert to be able to finance this project. Click on the image to access the site of the participative financing...
Upcoming release of the album "ALONE" by the group Terakaft
Dear friends of Festival au Désert,
We've launched a pledge so you can be involved in something amazing, by pre-ordering the album, signed exclusive merchandise & exclusives you'll be helping us bring our new album live to you. Thanks for supporting us, we look forward to playing live to you soon.
Click on the left image to access the Crowd-funding site.
Cultural Caravan for peace 2015: New programme.
Dear friends of the Festival au Désert,
Back from the festival in Morocco (23 to 25 of January), the caravan will leave Bamako to Segou (from February 4 to 7); then it will move to Koutiala on the 08; to San on the 10; to Mopti on 13 and 14 February and then it will go back to Bamako on the 15 to prepare the final with a Grand Concert artists International on 21 February.
Mourning announcement
In memory of our late Fantani Touré, Malian artist of great talent and always committed to peace.
Cultural Caravan for peace 2015: heading back to Timbuktu…
Dear friends of the Festival au Désert,
Artist from Mali will be joined by malian artists currently dislocated in refugee camps, by artists from Mauritania, Burkina Faso, Niger, and together will build up a Caravan that will sing and preach peace and tolerance in all its stages. From Morocco, Taragalte Festival from 23 to 25 January, the Caravan, enhanced by the artists of this friendly country, will tour several major cities of Mali from January 31 to February 13, 2015. After the Great Night for Peace celebration in Bamako January 31, 2015 with a Mega Concert that will bring together African and international stars and also with VJing (animations Sound & Vision Laser), the Caravan will be hosted by "The Festival on the Niger "Segou from February 4 to 8, before continuing its journey on February 10 to San and Mopti from 12 to 13 February and then in collaboration with the festival Jam Nati from 14 to 15 of February.
CROWDFUNDING PROJECT
CULTURAL CARAVAN FOR PEACE
In 2015, three music festivals Festival Taragalte (Morocco, M'hamid), Festival au Désert (Mali, Timbuctu) and Festival sur le Niger (Mali, Ségou) are working and travelling together to to promote cultural diversity, peace, tolerance and social cohesion amongst the peoples of the Sahel and Sahara.
A crowdfunding projet has been launched to help funding the caravane project. We warm invite all of our friends and supporters to contribute to this project through a donation that can be done at the following website:

https://onepercentclub.com/en/#!/projects/cultural-caravan-for-peace
Festival au Désert, edition 2014: BREAKING NEWS!
Dear friends of the Festival au Désert,
it is with sadness that we inform you that the Festival in the Desert can not be held in Timbuktu 9,10 and 11 January 2014.
Despite all the efforts that have been put in place by the Government of Mali, by MINUSMA and ourselves, to try to keep the 14th edition of the festival to the foreseen dates and in Timbuktu, it is clear that the security situation in Timbuktu is not yet appropriate to allow to make our festival ensuring the safety of all persons.
The Cultural Caravan for Peace, which was launched on November 16 in Morocco during the festival of Taragalte, will reach Burkina Faso in late January and ends on February 4th in Ségou. We'll give you more details as they become available.
We thank you for your understanding!
Press Release AZALAI project

After two years of researches and activities, the project AZALAI – Laboratoire Nomade, supported by the Culture programme of the European Union, will end on November 16 with a conference in M'hamid el Ghizlane, Morocco, during the Festival Taragalte (15-17 November).
Press Release from the Africans for Africa Network
Dear friends of the Festival au Désert,

The Africans for Africa Network recently announced a North-South collaboration which sees Mali's famed now exiled Festival au Desert make its way to South Africa thanks to the support of Emthojeni Arts Residency in Eastern Cape.
AndyMorgan's speech during last Womex
"Ladies, gentlemen and fellow Womexicans…

On the third of January this year, Ansar Eddine, one of the three armed Salafist groups who ruled over the northern two-thirds of Mali and imposed a brutal form of shari'a law on its people, issued what they called their 'political platform'.

..."
This is the beginning of the very interesting speech that Andy Morgan had given during the session to present the award to the Festival au Désert.
Africans for Africa Network - MEDIA RELEASE
Africans for Africa Network launches game-changing North-South Collaboration at WOMEX 13
Wales Cardiff, 25 October 2013: The recently inaugurated Africans for Africa Network today launched a game-changing North-South collaboration at WOMEX 13.
WOMEX 13 Professional Excellence Award
Dear friends of the Festival au Désert,

we are very proud to announce that the Festival au Désert won the WOMEX 13 Professional Excellence Award.
The award will be delivered on Sunday morning, 27 October 2013 at the WOMEX Award Ceremony.
FESTIVAL IN EXILE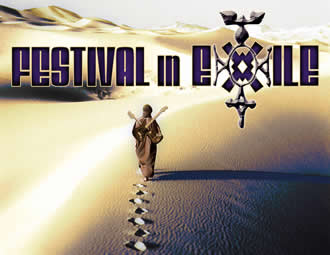 Dear friends of the Festival au Désert,

"Until the music can return to its roots with freedom of expression and dignity, the Festival au Desert has become, a Festival in Exile."
Soon on this website, the list of the concerts scheduled within the Festival in Exile.
2013 FREEMUSE AWARD WINNER

Dear friends of the Festival au Désert,

it's a great pleasure to inform you that the Freemuse Award has been given this year to the Festival au Désert "which in spite of extreme Islamists' attempts to silence all music in Mali, defends freedom of musical expression and struggles to continue keeping music alive in the region".
The Freemuse Award is sponsored by the Björn Afzelius International Culture Foundation (BAIK). Björn Afzelius, who died in 1999, was a Swedish rock singer who became a passionate spokesman for suppressed people around the world combining his musical career with political activism.
It is the first time that the Freemuse Award is given to an organisation. The award is given to an individual or an organisation that "has worked for freedom of musical expression in a remarkable way".
• Festival au Désert in Exile...