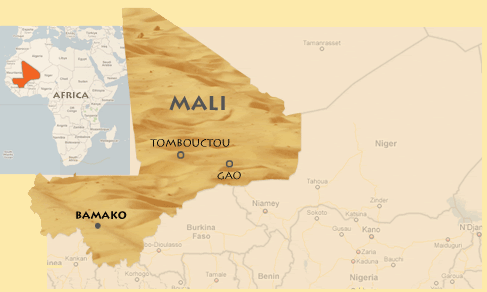 Mali, officially the Republic of Mali (French: République du Mali), is a landlocked nation in Western Africa. Mali is the seventh largest country in Africa, bordering Algeria on the north, Niger on the east, Burkina Faso and the Côte d'Ivoire on the south, Guinea on the south-west, and Senegal and Mauritania on the west.
Consisting of eight regions, Mali's borders on the north reach deep into the middle of the Sahara, while the country's southern region, where the majority of inhabitants live, features the Niger and Senegal rivers.
Malian musical traditions are derived from the griots, who are known as "Keepers of Memories". Malian music is diverse and has several different genres. Some famous Malian influences in music are kora virtouso musician Toumani Diabaté, the late roots and blues guitarist Ali Farka Touré, the Tuareg band Tinariwen, and several Afro-pop artists such as Salif Keita, the duo Amadou et Mariam, Oumou Sangare, and Habib Koité.
Passport & Visa
Non-Malian tourists who want to visit Mali must have a valid passport and a Visa obtained from the Malian embassy or consulate in their country of residence.
How to arrive to Bamako, Mali
DIRECT FLIGHTS
* CAM - Compagnie Aerienne du Mali
* Air France
* Point Afrique [France Low Cost]
* Go Voyages [France Low Cost]

NON-DIRECT FLIGHTS
* Royal Air Maroc [via Casablanca]
* Tunis Air [via Tunis]
* Mauritania Airways [via Nouakchott]
* Kenya Airways [via Dakar]
* Air Algerie [via Algier]

Travel Recommendations
Money
The national currency is the Franc CFA. 1 Euro - 656 FCFA, 1 USD - 462 FCFA (updated Juin 25, 2011)
Health
Vaccination against yellow fever is mandatory. Please don't forget to bring with you the international vaccination card when entering Mali.
Temperature
In the Tombouctou region, during the month of January, temperatures range from 30° Celsius/86° Fahrenheit during the day to 5° Celsius/41° Fahrenheit during the night.
Insurance
We recommend you to buy travel insurance. Festival Au Desert will not be held responsible for your belongings and your health.
What to bring with you
A good all season duvet (the desert at night can get really cold!), a warm suit, a light suit, walking shoes, a lamp, sun glasses, all the necessary batteries you'll need to make your electrical equipment work.
General considerations
Attending the Festival au Desert has been considered by most participants a magic experience. However, conditions in the desert are not easy and logistic challenges are such that, despite our best efforts, the Festival au desert remains a demanding destination.